This is an archived article and the information in the article may be outdated. Please look at the time stamp on the story to see when it was last updated.
A man and woman in Oxnard were facing child sex charges after allegedly forcing a 15-year-old girl into prostitution at a house where police found 10 other children, according to Oxnard Police.
An anonymous tip led officers to a home in the 100 block of North Harrison on Saturday where the unidentified caller said a teenager was being held for the purpose of prostitution, according to a news release from the Oxnard Police Department.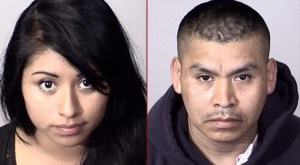 Officers found the teenager in question in the company of Rolando Ramirez, 34, and Graciela Vasquez, 23, the release stated.Police said Vasquez had taken the victim to the location and began inducing her to perform sexual acts with older men.
It was also determined sexual acts had occurred between the victim and Ramirez, according to the release.
Vasquez was arrested on suspicion of inducing a child to engage in a lewd act, conspiracy to commit a crime and contributing to the delinquency of a minor, according to the release.
Ramirez was also arrested, but it was not clear what counts he was facing.
Officers found 10 additional children living in the home along with another woman who rents the home, police said.
It was not clear if the woman was involved in the alleged prostitution. The children, who ranged in age from 5 months to 13 years, were removed from the home, the release stated.
Anyone with more information was urged to contact Detective James Langford at 805-385-7638.