This is an archived article and the information in the article may be outdated. Please look at the time stamp on the story to see when it was last updated.
On the same day two underage boys appeared in Riverside Juvenile Court Thursday, saying they did not commit the rapes and other felonies with which they've been charged in connection with an alleged assault at an Eastvale high school, a 15-year-old girl came forward to say she too had been attacked.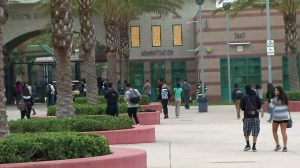 The boys had been arrested in connection with an alleged sexual assault on a student at Eleanor Roosevelt High School in Eastvale, according to the Riverside County Sheriff's Department.
They both issued "denials" — the equivalent of a not-guilty plea — at a detention hearing Thursday morning, according to John Hall, a spokesman for the Riverside County District Attorney's Office.
The two boys, accused in a Sept. 25 assault after class on the high school campus, were released on strict home supervision by parents and probation officers, according to Hall. They were ordered not to return to school, he said.
On Thursday, a 15-year-old girl told KTLA that she had been assaulted a week before by one of the suspects. She said she reported the incident to a school resource officer.
"That girl isn't alone. It didn't just happen to her," the girl said of the alleged victim in the criminal case.
The girl, who spoke along with her father on condition of anonymity, said she had been alone in the hallway when she was attacked.
"I felt somebody grab me and … he pushed me against the wall and started torching parts that I didn't want him to touch," she said.
Her father was outraged.
"He got a slap on the wrist, and then he thought, 'Hey, nothing's going to happen to me.' So a week later, he rapes a girl," the father said. "That's not right."
Sheriff's department and school district officials did not respond to a request for comment about the second girl's allegations.
In the criminal case, administrators were notified of the assault of Sept. 30 and handed the case over to a campus police officer, who spoke to the victim. School officials learned of the alleged assault from an anonymous caller, the Riverside Press-Enterprise reported.
Sheriff's investigators took the case from there, reporting the alleged assault was an "isolated incident," according to a news release.
The boys, ages 15 and 16, were each charged with statutory rape, sodomy by force in concert, sexual battery and oral copulation by force, Hall said.
Because the suspects are juveniles, their names will not be released, officials said.
No cameras were allowed in the courtroom after the victim requested that the hearing remain closed, Hall said.
KTLA's Kimberly Cheng contributed to this report.