This is an archived article and the information in the article may be outdated. Please look at the time stamp on the story to see when it was last updated.
Two former baggage handlers at Los Angeles International Airport were arrested Monday for allegedly using their employee credentials to breach airport security for the purpose of smuggling cocaine, federal authorities stated.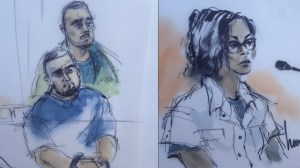 Adrian Ponce, 27, and Alberto Preciado Gutierrez, 26, both of South Gate, made their initial appearance in federal court Monday afternoon to face charges of conspiracy to possess with intent to distribute cocaine.
Ponce and Preciado were accused of conspiring to assist third-party couriers to use commercial airlines to smuggle kilogram "samples" of cocaine from Los Angeles to drug customers on the East Coast, according to a news release from the United States Department of Justice.
"These defendants are charged with abusing their privileged access on behalf of drug dealers," said United States Attorney Eileen M. Decker. "This case is yet another example of employees associated with airports assisting drug traffickers."
As part of the investigation into the former baggage handlers, law enforcement seized a kilogram of cocaine in Preciado's possession on December 16, 2015, the release stated.
According to the affidavit, the seizure was made in a restroom in Terminal 3 at LAX, where Preciado was delivering the cocaine to a courier, a man identified as "J.C.," who was holding a boarding pass to travel on a JetBlue flight to New York only an hour later. After this incident, Preciado was terminated by Swissport.
The following day, law enforcement interviewed Ponce, who had been taken into custody while waiting for Preciado in a vehicle outside Terminal 3, the release stated.
Ponce gave a written statement in which he admitted that "on multiple occasions," he and Preciado had used Preciado's supervisory status as an LAX employee to smuggle drugs to out-of-state drug customers by using third-party couriers, such as J.C., who had booked flights from LAX to the East Coast, and were willing to take the drugs on a commercial flight in exchange for payment, according to the affidavit.
If convicted of the narcotics trafficking offense, Ponce and Preciado would face a mandatory minimum sentence of 10 years in federal prison, and a statutory maximum sentence of life, the release stated.
Their arrests come less than two weeks after authorities arrested a JetBlue flight attendant who allegedly attempted to bring nearly 70 pounds of cocaine through security at LAX.
Marsha Gay Reynolds, who was arrested in New York, also made her first appearance in federal court in Los Angeles today.
Investigators said the two cases were unrelated.