This is an archived article and the information in the article may be outdated. Please look at the time stamp on the story to see when it was last updated.
Two teenagers who got lost during a bike ride in the Angeles National Forest above Altadena were airlifted to safety Monday after spending a night outdoors in cold conditions.
A family member of one of the missing teens called authorities at about 5 a.m. to report the two 18-year-olds had not returned home after leaving Sunday.
The family member said the teens were from Valencia and had loaded their bikes onto a car before leaving home, Lt. Tom Bryski of the Los Angeles County Sheriff's Department said.
They were recovered about 9 a.m. and airlifted to safety from an area just north of Oakwilde Campground in the Arroyo Seco.
"It was scary," biker Chad Haslock said. "But ... I'm glad we got saved."
Haslock described the conditions he and his friend experienced as "freezing." Temperatures have been in the 30s overnight in the San Gabriel Mountains.
Haslock, who was making his first outing on a trail, was wearing a T-shirt and helmet and no outer layer.
The pain planned to ride from Mount Wilson at 3 p.m. down to Altadena a few hours later, but they became lost as darkness fell, a Sheriff's Department news release. The sun set at 4:52 p.m. on Sunday.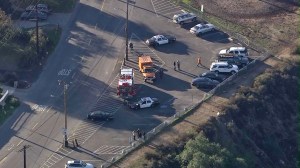 Search and rescue crews focused on an area where they received a cellphone ping from one of two men's phones, according to Bryski.
The teens were spotted standing near a trail at about 8:45 a.m., aerial video from Sky5 showed.
Both were airlifted out of the area by a Sheriff's Department helicopter at about 9:10 a.m.
The teens were both covered in blankets when they emerged from the helicopter.