This is an archived article and the information in the article may be outdated. Please look at the time stamp on the story to see when it was last updated.
Police are asking the public's help to identify two men who beat a woman during a home-invasion robbery last week, officials said.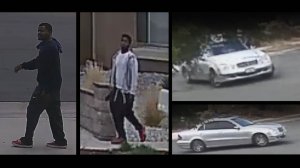 The crime took place about 10:30 a.m. Thursday at a home in the 1400 block of J.T. Eisley Drive, west of California Avenue, the Corona Police Department said in a written statement.
A 48-year-old woman heard a knock at her door, but did not answer because she did not recognize the two men standing there, police said..
The woman heard noises in her kitchen minutes later, officials said.  She discovered the men had broken in.
"The suspects assaulted the victim and proceeded to steal miscellaneous jewelry from her home," the police statement said. "They fled the scene in a silver Mercedes."
The woman was punched by the intruders and knocked unconscious, Sgt. Jason Perez said.
Neighbors spotted the men leaving the woman's home, thought it suspicious and went to check on her, the sergeant said. The neighbors called police after finding the woman had been beaten unconscious.
She was still knocked out when deputies arrived, Perez said. She was taken to a hospital for treatment but is expected to be OK.
Anyone who recognizes the suspects or their car is asked to contact Corona police Detective Robert Gonzalez at 951-279-3637, or at Robert.Gonzalez@CoronaCA.gov.
Corona PD needs your help! Can you identify these suspects? On 10/4/18 two suspects broke into a home on the 1400 block of J.T. Eisley in Corona. The suspects & vehicle were captured on video surveillance.https://t.co/poGqmijwGd pic.twitter.com/JbHeSlHfpc

— Corona Police Dept. #CoronaPD (@CoronaPD) October 5, 2018