This is an archived article and the information in the article may be outdated. Please look at the time stamp on the story to see when it was last updated.
Police are searching for two men suspected in a series of 13 armed robberies that occurred in November in Los Angeles and Culver City, officials said.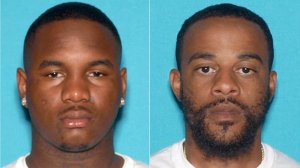 The two men, Dijon Cooper, 21, and Nye Lee, 31, reportedly robbed people on the street at gunpoint. They would ride up in their car and exit to snatch victim's wallets, jewelry and cellphones, officials with the Los Angeles Police Department said in a press release.
One man was armed with a black revolver. Both men claimed gang affiliation. They drove a a white, late-model four-door Toyota Camry with paper plates, possibly with the word "Glendale."
The robberies took place between Nov. 6 and Nov. 30, many in the Baldwin Village, Crenshaw and Mid City neighborhoods.
Read the full story on LATimes.com.