This is an archived article and the information in the article may be outdated. Please look at the time stamp on the story to see when it was last updated.
Two Mexican nationals captured in Los Angeles were turned over to authorities in Mexico on Tuesday where they face murder charges.
Luis Fernando Quintero-Heras, 44, and Jose Adrian Mendoza Del Muro, 33, were transferred into the custody of the Mexican Attorney General's Office at a San Diego-area border crossing by officers from U.S. Immigration and Customs Enforcement's (ICE) Enforcement and Removal Operations (ERO).
The two men were charged in connection with separate slayings in Mexico.
Mendoza was charged with first degree murder and attempted murder in 2012 in connection with the shooting of two men, the release stated.
Quintero was wanted for an October 2000 slaying in Sinaloa.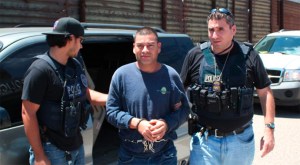 Court records show both men have prior convictions in the U.S. for driving related infractions for which they received probation.