This is an archived article and the information in the article may be outdated. Please look at the time stamp on the story to see when it was last updated.
A veteran San Diego police officer was killed and another was injured Thursday night in a shooting as the pair tried to make a stop, leading to one suspect's arrest and an extensive hunt for anyone else who might have been involved, police said.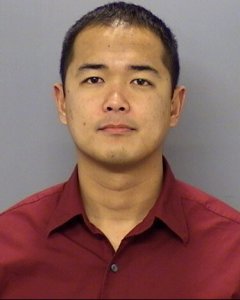 The detained suspect — identified Friday afternoon as Jesse Michael Gomez, 52 — was shot and was in critical condition at a hospital, police said.
The officers were identified late Friday morning by San Diego Police Department Chief Shelley Zimmerman.
Jonathan "J.D." DeGuzman, 16-year veteran of the department, was killed. Officer Wade Irwin, a nine-year veteran, was shot and hospitalized.
Zimmerman commended the "professionalism and courage" of her sworn and civilian staff in the overnight investigation, which was continuing Friday.
"This is one of the most difficult and heart-wrenching situations for police officers to go through," Zimmerman said.
The shooting happened after the two uniformed gang-suppression officers tried to stop an individual in the 3700 block of Acacia Grove Way, in the city's Southcrest section, Zimmerman said.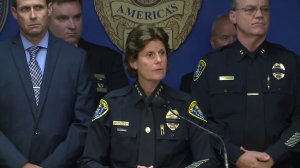 It wasn't clear if the confrontation started as a vehicle or pedestrian stop, the chief said at an 11 a.m. news conference, clarifying earlier comments.
The two officers radioed shortly before 11 p.m. Thursday that they were going to stop someone, Zimmerman said earlier Friday. Almost immediately afterward, they called for emergency backup.
"It happened extremely quickly," she said.
She didn't say why the officers were trying to make a stop. Asked whether the shooting was an ambush, the chief said it wasn't clear.
"We don't have that answer at this point," she said.
Irwin, who was shot in the upper torso, was not yet awake following surgery and had not been interviewed, she said.
The suspect was taken into custody in a ravine-type area not far from the shooting, Zimmerman said. She described him as a Hispanic adult male.
Gomez was being held on suspicion of murder and attempted murder, Zimmerman said Friday afternoon.
Shortly before 1 p.m., police took a man into custody at 42nd and Delta streets, after an hourslong standoff at a nearby home, KTLA sister station KSWB in San Diego reported. A witness recorded video of the man being detained by several officers in the middle of the street.
Zimmerman initially described that man as a "potential second suspect." In the afternoon, she identified him as Marcus Antonio Cassani, 41, and said he was being held on an unrelated warrant.
Investigators have not determined if he is linked to the shooting of DeGuzman and Irwin, Zimmerman said.
During the standoff, smoke or gas bombs were fired into the home, in the 4000 block of Epsilon Street in the Shelltown neighborhood, the Los Angeles Times reported.
Zimmerman said officers who responded to DeGuzman's and Irwin's call for help made a heroic attempt to save the life of their colleague, rushing him to a hospital in a squad vehicle.
"(There were) heroic efforts by the officers on scene, heroic efforts by the doctors to save his life," she said, adding that he had been shot in the upper body more than once.
DeGuzman had a wife and two young children, Zimmerman said.
The chief said she had personally worked with DeGuzman when she was a lieutenant. DeGuzman talked about his family all the time, she said.
"This is gut-wrenching. He cared. He came to work every day just wanting to make a positive difference in the lives of our community," she said.
Irwin is also married; he and his wife have a 19-month-old child, the chief said. He is in serious condition, Zimmerman said at the late morning news conference. The chief called him dedicated, loving and caring.
Officers were wearing body cameras and there is video evidence, the chief said.
Officers' shooting deaths up 79% from last year
On the subject of police shootings, Zimmerman said: "We have seen this happen way too many times just in the last few weeks."
Thursday's violence comes as this year's shooting deaths of U.S. law enforcement officers outpaces those of 2015.
As of Friday, 34 U.S. law enforcement officers had died from shootings in 2016, a 79% increase from the total in the same period last year, according to the National Law Enforcement Officers Memorial Fund, which keeps data on officers killed on the job.
Many of this year's deaths came during a summer of heightened tensions between law enforcement and the communities they serve after civilian cameras captured the shooting deaths of Alton Sterling in Louisiana and Philando Castile in Minnesota at the hands of police.
Among the officer deaths this summer were the July 17 killings of three officers in Baton Rouge, Louisiana, and a July 7 attack in Dallas that killed five officers.
Annual rates of officer shooting deaths have fluctuated over the past 10 years. The decade's highest total came in 2011, with 73 officers shot dead.
Firearms were responsible for 41 of 123 officer fatalities in 2015, according to the memorial fund, but it was not the No. 1 cause of death. Traffic-related incidents, such as automobile and motorcycle crashes, caused 48 deaths.
So far in 2016, gun-related deaths are the leading cause, followed by 24 traffic-related fatalities.