This is an archived article and the information in the article may be outdated. Please look at the time stamp on the story to see when it was last updated.
Firefighters discovered the bodies of two people who appeared to have been shot while extinguishing a fire at a Westchester apartment on Saturday morning, officials said.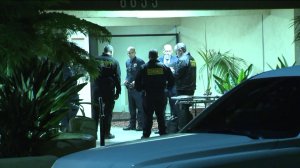 The fire was first reported just after 9 a.m. at an apartment building in the 8600 block of Belford Avenue, just south of Manchester Avenue, Lt. John Radtke of the Los Angeles Police Department's West Bureau Homicide Division said in a written statement.
Los Angeles Fire Department firefighters arrived to find several good Samaritans trying to put out the flames from outside the apartment, he said.
Firefighters made their way into the burning home and discovered two people, Radtke said. Both were pronounced dead at the scene.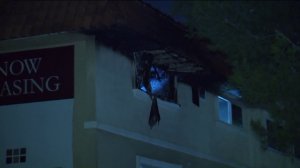 "There was evidence suggesting both victims suffered gunshot wounds and this case is being investigated as an arson-homicide," Radtke said.
No description of the two victims was released, and no information regarding the circumstances of the killings or a suspect description was available.
The fire damage was limited primarily to the unit in which the victims were found, officials added. One neighboring unit sustained smoke damage.
Police said they were looking for a white, four-door, 2015 Nissan Altima with a California license plate of 7CXN273 that belonged to one of the victims, but was missing, LAPD Detective Sean Kinchla told KTLA.
Anyone with information is urged to contact the LAPD's West Bureau Homicide Division at 213-382-9470. Tips may also be submitted anonymously to L.A. Regional Crime Stoppers at 800-222-8477.
KTLA's Judy Oehling contributed to this report.