This is an archived article and the information in the article may be outdated. Please look at the time stamp on the story to see when it was last updated.
Police released surveillance video Tuesday of a brutal ambush assault and robbery of a deaf man sitting outside a coffee shop in Riverside.
The attack occurred around 1 a.m. on May 19 at The Coffee Bean and Tea Leaf  near Mission Inn and the Main Street Mall, according to a news release from the Riverside Police Department.
Arriving officers found a man who had been beaten by two attackers who also stole his MacBook laptop computer, the release stated.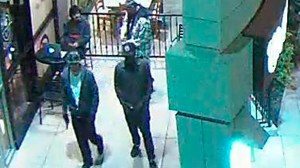 Surveillance video showed the two men approach the victim while he was sitting at a table outside the coffee shop.
Both men could be seen hitting the victim repeatedly in the head and upper body as he tried to hold on to his computer.
The suspects eventually wrestled the laptop free from the victim's grasp and ran off with it, the video showed.
Earlier, a third man had approached the victim along with the two suspects, according to the release. A search of the area by responding officers was unsuccessful.
The two suspects seen on the video were described as black men in their 20s.
The third suspect was described as a Hispanic man in his 40s.
Anyone with knowledge of the crime or who recognizes the suspects was asked to call Officer Serrato at 951-826-8714 or email at RSerrato@riversideca.gov; or Officer Ouk at 951-826-8729 or email at COuk@riversideca.gov.
Those wishing to remain anonymous can report information through WeTip at 800-78-CRIME, or wetip.com.