This is an archived article and the information in the article may be outdated. Please look at the time stamp on the story to see when it was last updated.
Detectives were asking for the public's help Tuesday in identifying two young men responsible for a rash of burglaries in the Hollywood Hills.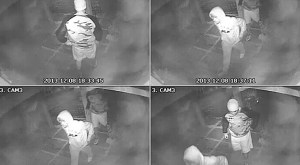 On Dec. 8 officers were called to a home in the 2000 block of Mound Street around 8 p.m. to investigate a burglary that had just occurred.  Surveillance video captured suspects entering onto the property of the victim's home.
The men entered the home by smashing a large window door at the back of the home. They ransacked the home taking the victim's jewelry then fled by jumping over the fence.
Both men are described as black between 18 and 23-years-old.  One of them was 5 feet 10 inches tall, weighing 135 to 150 pounds. He was seen wearing a red hooded sweatshirt, light color pants and dark shoes.
Second man was 5 feet 8 inches tall, weighing 135 to 150 pounds, with a red beanie, camouflage shirt vest with dark sleeves and stripe black and white shorts.
The men were believed to be driving a light color Mercedes vehicle.