This is an archived article and the information in the article may be outdated. Please look at the time stamp on the story to see when it was last updated.
Two women who have accused actor Steven Seagal of sexual assault detailed their experiences during a news conference Monday, saying the incidents happened when they were still in their late teens.
Standing alongside their attorney Lisa Bloom, Regina Simons and Faviola Dadis explained how Seagal allegedly assaulted them years ago. Dadis travelled from the Netherlands, where she said she is now a doctoral candidate in clinical neuroscience, to appear at the news conference in Woodland Hills.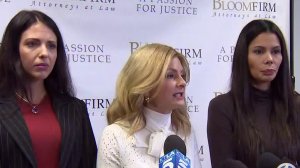 Actress and model Jenny McCarthy said in a 1993 interview with Movieline that Seagal repeatedly told her to take off her dress during an audition and the actor was sued by a personal assistant accusing him of sexual harassment and illegal sex trafficking, the Los Angeles Times reported. The case was withdrawn but it's unclear if a settlement was reached.
Simons said she was working as an extra on Seagal's 1994 action thriller, "On Deadly Ground," when she first met him. Once the movie was over, Seagal invited Simons — who was still in her late teens at the time — to a "wrap party" at his home, she said.
He buzzed her in through a gate at his home, she said, before she walked up to the front door.
"He invited me in, and immediately I asked him, 'Where is everyone else?'" she said. "He replied, 'They all left.'"
Seagal then asked her to follow him to another room so he could show her something, she said, before taking her inside the room.
"He closed the door and approached me from behind," she said. "He started kissing my neck and taking off my clothes. I was in shock."
The aspiring young actress was intimidated by Seagal, considering he "was more than twice my size and twice my age," she said. "I was not sexually active nor had I ever been naked in front of a man before. I froze."
She said she remembers Seagal removing his robe before raping her.
"There was nothing consensual about this," she said.
"I couldn't move and I felt as if I was watching my body from above," she said. "I felt tears coming down my face."
Once the ordeal was over, Simons said, Seagal offered her money but she rejected it as she rushed out the door. She said she cried the whole drive home.
He tried calling her several times after and she rejected his calls, she said.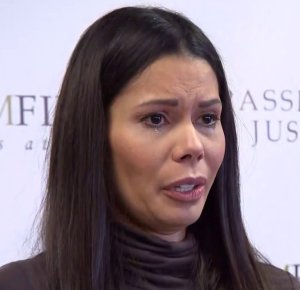 "This completely changed the trajectory of my life," Simons said, saying the experience left her feeling "traumatized and depressed" as she has struggled to form healthy relationships and developed migraines from the stress.
"I do not want fame," she said. "I came forward to heal from this trauma ... I want him to acknowledge what happened and apologize."
Dadis said she was just 17 and working as a model and recording vocals professionally when she met Seagal through a music producer. He was working on a film about Ghengis Khan and casting for it when he told Dadis she should try out.
She said the two had communicated through calls and texts and then she went through two auditions with other people around, when Seagal invited her over for a private audition.
At first he told her to make hotel reservations, but she said she didn't have the money and wouldn't make them, she said. Then he invited her to a room he reserved, she said.
She had been told to wear a bikini under her clothes — a practice that's "standard in the modeling industry," she said.
Dadis said Seagal's assistant took her up to the hotel room to meet him in the evening, but inside the elevator going up, the assistant kept saying "Steve's word is as good as gold."
"I thought this was a bit strange, but I did not comment," Dadis said.
"I was very surprised that when I arrived there, there were no other individuals present in the room and Steve's assistant left me alone with him and his personal security guard," she said.
The actor then asked the 17-year-old to strip down to her bikini, she said, and do a catwalk around the room. Before long, he approached her and asked her to act out an erotic scene "to get a sense of our chemistry," she recalled him saying.
"I felt uncomfortable because I was in my bikini and I shyly expressed this," she said. "However, instead of respecting my boundaries, Steven slipped his hand underneath my bikini top and began pinching my nipples."
She said he "simultaneously" slid his hand across her vaginal area, "which was only meagerly covered."
"I quickly yelled that this audition is over and began gathering my things," she said.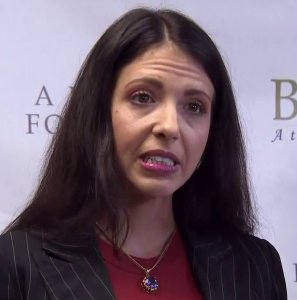 Despite Dadis appearing "noticeably upset and terrified by the experience," she said, Seagal sat calmly "as if nothing had happened."
She said the security guard was standing, blocking the doorway, and "only moved when Steven motioned for him to do so."
"I left feeling horrified and totally violated," Dadis said.
Just as with Simons, Dadis said Seagal tried reaching out to her multiple times after the incident but she also rejected his attempts.
Feeling scared and blaming herself, Dadis said she didn't tell anyone about the incident at first. Over the next couple weeks, she said her family, friends and ex-boyfriend noticed a change in her before she started confiding about her experience.
While she sought therapy, she said, she did not report the incident to the Los Angeles Police Department — until now.
"I was terrified to report the incident to the police because I felt that if I did so, my career would be over," she said, later saying she has now reported it to LAPD in hopes it may help other possible cases.
"At that time, when victims came out to accuse celebrities, very few people believed them and they were blacklisted — we were blacklisted — from the industry," Dadis said.
Dadis has left the entertainment industry since then, and as a Ph.D. candidate in her home country of the Netherlands, it's costing her time and money to now travel to L.A. to speak out against Seagal, she said.
"Until you experience sexual assault yourself, it is hard to explain why it may take such a long time to come public with these very disturbing experiences," Dadis said.