This is an archived article and the information in the article may be outdated. Please look at the time stamp on the story to see when it was last updated.
California Highway Patrol officers in San Bernardino were searching Wednesday for the hit-and-run driver who struck a 2-year-old boy and left him for dead in the street in front of his home.
The boy, identified by family members as Jonathan Montes, was playing with his older brother in the driveway of their home on Perris Hill Road near Baseline Street around 6 p.m. on Tuesday.
The boy's uncle, Nicholas Ortega, was talking to a friend across the street when his nephew spotted him and ran out into the road to come and see him, Ortega told KTLA.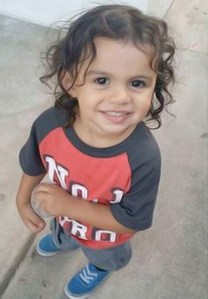 As he darted into the street, Jonathan was hit by an older model, silver Subaru that was traveling 40 mph in a 25 mph zone, according to a statement from the CHP.
The front of the sedan struck the boy. The impact sent Jonathan flying 100 feet before he landed on the pavement, Ortega said.
"All I just saw was his shoes fly off of him … and the little toy gun that he had fly down the street,"  he said.
Ortega picked the boy up and raced back to the house where a family member called 911.
Jonathan, known as J.R. to his family, was taken to Loma Linda University Medical Center in extremely critical condition, the CHP stated.
The toddler suffered severe brain swelling, bruised kidneys and a broken neck, according to a post on a GoFundMe page set up for the family.
The post also stated that Jonathan had been placed on life-support.
Witnesses said the driver never even slowed down.
"It's just hard to know that … someone could do that … especially to a little baby," Ortega said.
Investigators were reviewing surveillance video from cameras in the area, but had not released any findings.
Anyone with information about the crash was urged to contact the San Bernardino CHP office at 909-383-4247.