This is an archived article and the information in the article may be outdated. Please look at the time stamp on the story to see when it was last updated.
Ten people were injured, three of whom were hospitalized, and the driver of a U-Haul was arrested for allegedly having cocaine in his possession after police say he drove the wrong way and crashed into pedestrians and vehicles in downtown Los Angeles early Sunday morning.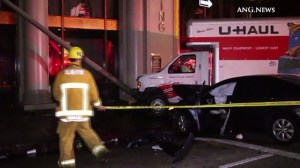 The driver, Michael Maurice Wilson, 40, was arrested for cocaine possession and driving under the influence, said Los Angeles Police Department Officer William Brown with the Central Traffic division. It was not immediately known if Wilson had drugs in his system.
During the incident, Wilson sideswiped a parked vehicle near West Seventh and South Spring streets before continuing eastbound on westbound lanes and crashing into a motorcycle with two occupants and a ride-share vehicle containing an Uber driver and three passengers, said LAPD Sgt. Bailey.
The motorcyclist and Uber driver were both turning from Spring to Seventh when they were struck.
The truck then jumped the curb and hit a power pole, fire hydrant and four pedestrians, Bailey said.
The streets were busy as people came out to celebrate Halloween, and some 80 people were on the sidewalk when the U-Haul driver appeared to lose control and crash, witness Airron White said.
The crash occurred around 12:45 a.m. and 10 people were injured, LAPD Media Relations Officer Rosario Herrera said.
Although police initially said eight people were hospitalized, Herrera later said three people were transported and seven were treated at the scene.
The transported victims were taken to LAC+USC Medical Center and included a motorcyclist and two pedestrians, LAPD Officer Eastern with the Central Traffic station said.
All of the victims suffered non-life threatening injuries, Eastern added.
Correction: An earlier version of this article included a sentence that referred to the suspect by the name of a police spokesman. The post has been updated.