This is an archived article and the information in the article may be outdated. Please look at the time stamp on the story to see when it was last updated.
A U.S. Air Force Thunderbirds pilot who was killed when his F-16 jet crashed at Nellis Air Force Base in Nevada on Wednesday was from Valencia, officials announced Thursday.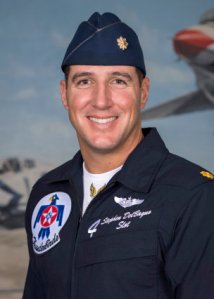 In a statement, the US Air Force said the jet from the service's precision demonstration team crashed at 10:30 a.m. during routine training on the Nevada Test and Training Range.
The pilot's was identified as Maj. Stephen Del Bagno.
"We are mourning the loss of Major Del Bagno," Brig. Gen. Jeannie Leavitt, 57th Wing Commander said in a statement. "He was an integral part of our team and our hearts are heavy with his loss. We ask everyone to provide his family and friends the space to heal during this difficult time."
An earlier statement from the U.S. Air Force said the team's show this coming weekend at March Air Reserve Base in Riverside was canceled and the effect on the remainder of the Thunderbirds' shows scheduled for 2018 had yet to be determined. The team had performed once so far in 2018, in Melbourne, Florida, in late March, as well as doing a flyover of the Daytona 500 in Florida in February.
Del Bagno graduated from Utah Valley State University in 2005 and commissioned from Officer Training School in Maxwell Air Force Base Alabama in 2007, according to his Thunderbirds biography.
Before joining the Thunderbirds, Del Bagno served as an F-35A Evaluator Pilot and Chief of Standardization and Evaluation, 58th Fighter Squadron, Eglin Air Force Base in Florida, the bio states.
Before joining the Air Force, he was a civilian flight instructor, corporate pilot, skywriter and banner tow pilot.
He logged more than 3,500 total flight hours in over 30 different aircraft, with 1,400 hours as an Air Force pilot.
Del Bagno had also worked with Marvel Studios as a consultant for "Captain Marvel," set to be released in 2019.
"We will miss him greatly; he'll always be part of the team," the company said in a tweet.
We lost a friend yesterday. Marvel Studios is saddened to hear of the loss of Air Force Maj. Stephen Del Bagno, who we were lucky to get to know during his time as a consultant on Captain Marvel. We will miss him greatly; he'll always be part of the team.

— Marvel Studios (@MarvelStudios) April 6, 2018
The crash of the F-16 was the third for a Thunderbird jet in the past two years.
In June 2017, an F-16D used by the team ran off the runway and overturned at Dayton International Airport in Ohio while preparing for an air show. Two crewmembers were injured.
In June 2016, a Thunderbirds F-16 crashed south of Colorado Springs, Colorado, after it and other Thunderbirds flew over a graduation ceremony at the US Air Force Academy. The pilot ejected in that incident.
Wednesday's Thunderbird crash was the fourth incident involving US military aircraft in approximately 24 hours. The other incidents are:
A US Marine Corps AV-8B Harrier II jet crashed Tuesday during takeoff from Djibouti-Ambouli International Airport. The pilot was able to eject and is being treated.
A US Marine Corps CH-53 crashed Tuesday in the vicinity of Naval Air Facility El Centro in California, killing four crew members.
A United States Marines Corps CH-53 helicopter was damaged late Tuesday while landing in the East African country of Djibouti, in the vicinity of Arta Beach.