This is an archived article and the information in the article may be outdated. Please look at the time stamp on the story to see when it was last updated.
Thousands of Tijuana residents protesting Mexico's gasoline price hike marched through the city's streets Sunday. Later in the day, crowds of demonstrators swarmed the city's main port of entry across from San Ysidro at El Chaparral, with a smaller group at the secondary port of Otay Mesa.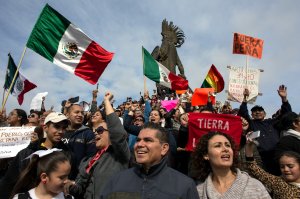 As they did during protests last week, U.S. authorities for several hours diverted southbound traffic from Interstates 5 and 805 away from the San Ysidro crossing and urged motorists to head to the Otay port. The regular flow of traffic was reestablished by 7:40 p.m., according to Caltrans.
In Tijuana, municipal police estimated the number of demonstrators at close to 15,000. A larger group of more than 40,000 gathered at the Civic Center in Mexicali, Baja California's state capital; late in the day, protesters managed to block both entrances and exits to the main state government office building and to a federal office building, the newspaper La Cronica reported.
The protests, which have been largely peaceful, are unprecedented in the region, in size and tone, longtime observers said. Participants voiced wide-ranging dissatisfaction with Mexico's political and economic status quo, and demanded change.
Click here to read the full story on LATimes.com.