This is an archived article and the information in the article may be outdated. Please look at the time stamp on the story to see when it was last updated.
With international travel to Los Angeles continuing to grow, U.S. Customs and Border Protection is for the first time in 10 years accepting applications for dozens of new officers to work at Los Angeles International Airport.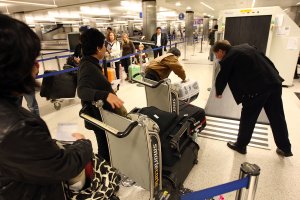 The number of customs officers working at LAX has diminished through normal attrition and those that remain are under increasing pressure to screen a surge in international travelers flying into LAX, said Claudia Canizalez, a representative for the agency.
Under normal circumstances, she said, the federal agency hires new officers and assigns them primarily to work near the border in Texas, Arizona and Southern California. But now new job applicants can specifically request to fill one of several dozen openings at LAX, Canizalez said.
"We need the help," she said of staffing at LAX. "We definitely need the help."
Read the full story on LATimes.com.