This is an archived article and the information in the article may be outdated. Please look at the time stamp on the story to see when it was last updated.
A 20-year-old U.S. Marine was shot and killed outside a San Bernardino strip club early Sunday morning, authorities said.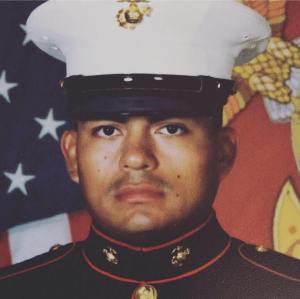 About 2:10 a.m., officers responded to several 911 calls from the Flesh Club in the 100 block of West Hospitality Lane, according to a statement from the San Bernardino Police Department. The officers arrived to find the victim on the ground in the parking lot northeast of the establishment's main entrance. He had suffered "numerous" gunshot wounds, the news release said.
Douglas Rivas-Rauda, who had sustained trauma to his upper body, died at the scene, the San Bernardino County coroner's office said.
Rivas-Rauda, who was stationed at Twentynine Palms, was at the club with several fellow Marines at the time of the incident, according to police.
"There is no indication that they were involved in any type of altercation and the reason for the shooting has not been determined," the statement said.
Several witnesses were in the parking lot when Rivas-Rauda was shot, the Police Department said.
Anyone with information about the case was asked to call police Detective Houser at 909-384-5656 or Sgt. Kokesh at 909-384-5615.