This is an archived article and the information in the article may be outdated. Please look at the time stamp on the story to see when it was last updated.
So many people fleeing persecution in their home countries have asked for help in San Ysidro in recent weeks that federal officials have not been able to process all of them, leaving some stranded and running out of money while they wait in Tijuana.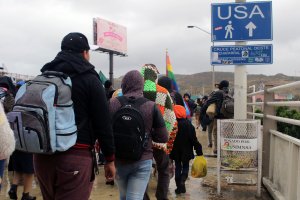 U.S. border officials are trying to work through the backlog, but they can go only as fast as migrants can be processed and moved from temporary holding cells to immigration detention.
An official with U.S. Customs and Border Protection said the agency remains committed to meeting the care and safety needs of people in custody, and is working actively with partners, including Immigration and Customs Enforcement, to resolve the backup.
"There are potentially a number of reasons causing the San Diego area ports of entry to reach capacity; we do not have a definitive reason to offer at this time," the official added.
Read the full story on LATimes.com.