This is an archived article and the information in the article may be outdated. Please look at the time stamp on the story to see when it was last updated.
A 27-year-old Uber driver was fatally shot while sitting inside his vehicle in Inglewood, police confirmed Monday.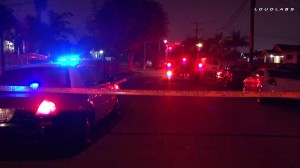 The shooting was reported just before 4 a.m. Sunday in the 3700 block of West 109th Street, according to an Inglewood Police Department news release.
The man found sitting in the car — later identified by the coroner's office as Andre Jamal Bayyan, 27, of Los Angeles — was pronounced dead on scene.
Bayyan was working for ride-hailing service Uber, the San Francisco-based company confirmed, saying it was helping police in the investigation.
"We are deeply saddened by the loss of Mr. Bayyan to this senseless act of violence. Our thoughts and condolences are with his friends, family and loved ones," an Uber spokesperson said in a brief statement.
Bayyan was on a trip for Uber at the time, but the company could not confirm whether he had picked up any passengers.
A friend told KTLA the victim was a father and the primary caregiver for his young son.
"He was a great father. This is really hard for me," friend Paulette Smith said. "He was always there for me when I needed him, and he's going to be very missed. He's going to be missed by a lot of people."
Police have not provided a description of the killer, and residents said they were on edge while the search for the shooter continued.
Anyone with information was asked to call police at 310-412-5246 or, to remain anonymous, 888-412-7463.