This is an archived article and the information in the article may be outdated. Please look at the time stamp on the story to see when it was last updated.
A female Uber driver was killed in a two-car hit-and-run crash in South Los Angeles that left her passenger critically injured early Saturday.
Family and friends identified Folesha Parker-Iverson, 52, as the driver of a black Honda Accord involved in the crash.
The fatal crash happened about 3:40 a.m. at Arlington Avenue and West Martin Luther King Jr. Boulevard, the Los Angeles Fire Department reported.
The driver of a second vehicle -- a silver Infiniti -- fled the scene on foot and was taken into custody later in the day, according to police.
In surveillance video provided to KTLA, it appears the Infiniti ran a red light and slammed into Parker-Iverson's Honda Accord.
Parker-Iverson was pronounced dead at the scene, officials said. Her male passenger, who was trapped in the mangled car and had to be extricated by fire officials, was taken to a local hospital in critical condition but as of Saturday night was said to be stable.
Catherine Lombardo, a family friend ofParker-Iverson, told KTLA Parker-Iverson was a widow raising two daughters. She also worked full time as a counselor A.B. Miller High School in Fontana and drove for Uber and Lyft to supplement her income.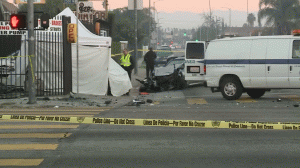 "I can tell you that the family is so distraught that they are barely able to eat today and get through the day," said Lombardo. "I think that the deceased's sister is also having a very, very hard time with it. The family is overwhelmingly distraught. They cannot talk, they are just trying to hold it together right now. This was shocking for them."
A GoFundMe page has been created to help Parker-Iverson's family.
The investigation into the deadly crash was ongoing.
KTLA's Geoff Peters contributed to this story.