This is an archived article and the information in the article may be outdated. Please look at the time stamp on the story to see when it was last updated.
The attack on Gilbert Wilburn was so brutal, it left him barely able to speak.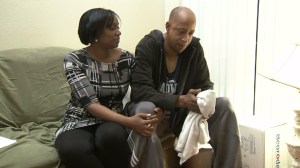 "I'm terrified," he said in an interview. "I'm nervous."
The Uber driver said he picked up two men from a house party near Redondo Avenue and East Second Street in Long Beach (map) around midnight on New Year's Eve.
"There was no negative conversation. I had no negative feeling," Wilburn said.
About three-quarters of the way to the destination, an alert on the Wilburn's smartphone notified him that the ride request had been cancelled. The passengers in the vehicle had not used the Uber app to summon the driver.
Wilburn told the two men that, since they were not customers of the ridesharing service, they would have to exit the vehicle or pay the fare. They agreed to pay him.
He drove them to the location they requested — an apartment complex near the intersection of Temple Avenue and East Wall Street in Signal Hill (map), about 2 miles from where he picked them up.
Wilburn said he helped one of the men get of the vehicle.
"I don't know what he was thinking. He pushed me two or three times," the driver said. "Next thing I know, I was on my back and I blacked out."
As he was going in and out of consciousness, Wilburn said, he "looked up and the other guy was choking me."
The driver tried to fight back, and eventually his attackers ran off, he said.
The assault, which left him with a several abrasions and a bruised jaw, was unprovoked, he said. The fare was no more than $6.
Wilburn's wife, Valerie Adams, believes "it was either a game to them or a hate crime."
She said her husband gave police the address where the men likely lived.
"I'm angry that they're not in jail right now. That's why I'm angry," she said. "They can do this to somebody else."
Signal Hill police on Monday confirmed a report had been filed in the early New Year's Day incident but said Wilburn had not yet been interviewed by investigators.
"I just want charges filed — and not misdemeanor charges," Adams said. "It's attempted murder."
More Video: