This is an archived article and the information in the article may be outdated. Please look at the time stamp on the story to see when it was last updated.
An Uber driver said his pickup truck was struck by a small plane that crashed on the 405 Freeway in Orange County on Friday.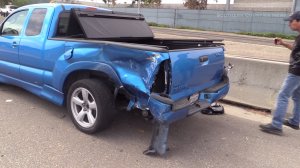 The crash occurred around 9:30 a.m. when a Cessna 310 had some kind of malfunction and the pilot tried unsuccessfully to return to John Wayne Airport.
The plane hit the southbound freeway in the area of MacArthur Boulevard. Its two occupants were hospitalized with traumatic injuries, authorities said.
Uber driver Blackstone Hamilton said his blue Toyota Tacoma pickup truck was spun around by the impact of the plane. He at first thought the truck was hit by a big rig.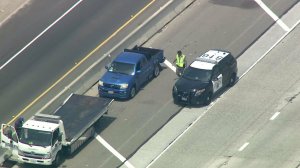 Speaking to a freelance news photographer, Hamilton said he had a passenger in the pickup when the truck was hit.
"Saw flames all around us," Hamilton said. "Essentially, I was just trying to regain control of my vehicle. At the end of that, checked my passenger, made sure he was OK and gave each other a hug – that we were still alive."
The truck has serious damage to both sides of its rear end.
Hamilton said the truck was pushed into the freeway's center divider.
Caltrans District 12 indicated that four to six vehicles were hit by the plane, but no one was injured.