This is an archived article and the information in the article may be outdated. Please look at the time stamp on the story to see when it was last updated.
A driver was hospitalized Thursday morning after being shot during an attempted robbery in Hollywood Hills.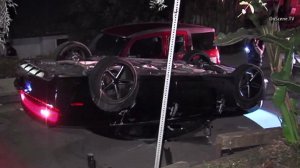 The incident occurred in the 3200 block of Velma Drive at about 2:30 a.m., said Sgt. Anthony Verret with the Los Angeles Police Department.
The driver had just dropped off a woman when someone approached her and attempted to rob her, said Sgt. Richard Krynsky with the Police Department.
When the robber found out the woman had no money he asked her to call the driver back and attempted to rob him, Krynsky said.
Once he was confronted by the robber, the driver put his vehicle in reverse but crashed into an embankment and flipped the car, Krynsky said.
The gunman then went up to the wrecked vehicle and shot the driver before fleeing the area on foot, Krynsky said.
The driver had undergone surgery following the shooting and was in stable condition, Krynsky said.
Police initially said the male victim was working as an Uber driver when he was shot, but later determined he was off duty at the time, Krysnky said.
The passenger was not injured in the incident and was cooperating with police, Krynski said.
Investigators believe there may have been more than one person involved in the robbery attempt.
"We do believe that there may be a second suspect involved in this incident," Krynski said.
Police had not taken anyone into custody in connection with the case.
KTLA's Stephen Acosta contributed to this report.