This is an archived article and the information in the article may be outdated. Please look at the time stamp on the story to see when it was last updated.
Around 200 Uber drivers protested outside the company's Santa Monica office Tuesday, saying they had been unfairly impacted by recent pay cuts and what they described as a harsh rating system.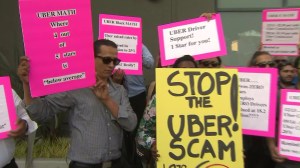 Multiple people held signs that explained how Uber calculates driver's pay, while others waved posters that stated "stop Uber scam," "tip your Uber" and "Uber math, where four out of five stars is 'below average.'"
Uber launched in 2009 and can be compared to a taxi service, in that it connects people who need rides to drivers through the company's app.
The company's commission increased from 5 percent to 20 percent between 2013 and 2014, when drivers pay was reduced from $2.50 per mile to $1.10 per mile, Uber driver Sully O'Sullivan told KTLA.
"People have invested their hard-earned cash to come into the business on the promise of the money they would make," he said during the protest.
Driver salary is flexible depending on the rating riders give them, a system some protesters said was unfair.
Uber driver Kathy Vint joined the company after seeing a Craiglist advertisement claiming she could make $35 to $40 an hour.
"I thought great, this would be a great job for me. But then after working like two weeks and I saw what I actually got paid, it was less than minimum wage," Vint said.
A company representative would not comment on camera, but emailed KTLA the following statement:
"Uber offers individuals the freedom, economic opportunity and flexibility to start their own businesses. We remain committed to helping the thousands of Los Angeles driver partners grow their small businesses."