This is an archived article and the information in the article may be outdated. Please look at the time stamp on the story to see when it was last updated.
A woman caught a violent Uber ride near East Hollywood on her cellphone after she told her driver to stop texting while driving.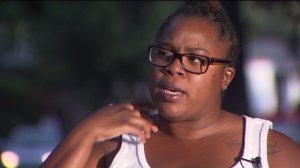 The incident occurred about 4:30 p.m. Sept. 13 near the intersection of Beverly Boulevard and North New Hampshire Avenue.
Tanelle Peppers, 30, said she had requested a ride from the San Fernando Valley to Hollywood when her driver started texting behind the wheel.
She told KTLA that she asked the driver if he was texting and he started to curse at her. She added that the driver called the police while they were on the freeway and wanted her to get out. She began recording the interaction as she waited for police. That's when things began to escalate.
The man is seen in the video getting out of the car and going to Peppers' side to pull her out.
"Don't touch me," Peppers is heard yelling at the driver.
She said he charged at her, punched her and knocked off her prescription sunglasses.
Once she got out of the car, the driver ran over her sunglasses and he drove off.
Peppers reported the incident to Uber, and is hoping to get reimbursed for the ride, her medical bills and damaged property. She went to urgent care after the altercation.
In a statement to KTLA, Uber spokeswoman Tracey Breeden said the safety of riders and drivers is "of utmost concern."
"In order to best protect everyone in the vehicle, we require compliance with the law. You will find information on safety guidelines for riders and drivers in our Community Guidelines," Breeden said in the statement.
"If at anytime a driver or rider feels unsafe they can end a ride. We encourage drivers and riders that at any time if they feel unsafe to first contact 911 and report to police," she added.
WARNING: Video below includes graphic language and content.