This is an archived article and the information in the article may be outdated. Please look at the time stamp on the story to see when it was last updated.
Uber will launch its carpooling service, UberPool, in Los Angeles on Thursday, the ride-hailing company announced Wednesday morning.
The ride-on-demand service operates in more than 150 U.S. cities, but only two of those cities – San Francisco and New York – have access to the carpooling feature, which allows multiple customers going in the same direction to share a ride. Los Angeles will become the third city where customers can choose to carpool with each other, lowering their fares by as much as 50%.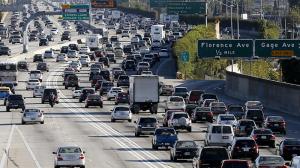 "L.A. is famous for a lot of things, not least of them is some of the worst traffic in the country," said the general manager of Uber's Los Angeles branch, Eyal Gutentag. "The idea behind UberPool is simple, but the implications are big. More people carpooling means fewer cars on the road, which means fewer emissions and less time stuck in traffic."
In San Francisco, where UberPool was first introduced last year, Gutentag predicts that by the end of 2015, the majority of trips taken on UberX – the version of Uber where drivers use their personal cars – will be UberPool rides.
Click here to read the full story on LATimes.com.