This is an archived article and the information in the article may be outdated. Please look at the time stamp on the story to see when it was last updated.
An 18-year-old UC Irvine student died over the weekend after going to a party, and his fraternity has been suspended indefinitely amid an active police investigation, the young man's father and school officials said Monday. Noah Caleb Domingo, a freshman member of Sigma Alpha Epsilon, was apparently participating in a rush week event for his fraternity when he attended a "big brother/little brother" party on Friday night, according to his father.
The following morning, the student's parents received a phone call informing them of their son's death, Dale Domingo told KTLA. "When you get that phone call, it's tough. You already know," Dale said. "I was bracing myself." He said he has no idea how Noah died. However, the family fears alcohol may have played a role. "Whether this is or wasn't, I don't know," Dale said. "But if it was, a fraternity is supposed to be a brotherhood and you're supposed to look out for each other — and my son's not here." Dale described his son as a "real sweet, kind and loving kid," who was a popular basketball and football player during his time at Crescenta Valley High. The school will hold a moment of silence in Noah's honor at a basketball game Tuesday. Noah, the youngest of three siblings, had dreamed of working in sports medicine for the Lakers. "It's been tough, it's been hard," Dale said. "I know his brother and his sister, they've had a hard time with it." On Monday, Dale spent the day moving Noah's belongings out of his dorm room and comforting his roommate. "I gave him a hug and told him: learn from what happened, make better choices," the father said. "And that's all I can tell him. And let him know that we're here for him, too."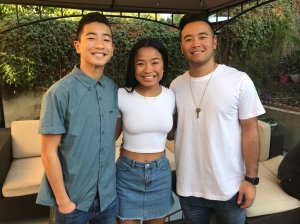 Edgar J. Dormitorio, the university's interim vice chancellor of student affairs, confirmed police are investigating the incident. In a statement, he said Sigma Alpha Epsilon has been placed on interim suspension, meaning the fraternity must cease all activities amid the active investigation. Dormitorio added that he could not disclose details of the incident because of the investigation. He also did not release any information about the student. "We will … closely examine the larger context in which this tragedy occurred and will be working with the Greek community to help ensure that they are engaging in behaviors and practices that are in alignment with university policies and their own values," Dormitorio said. The university will also be working with fraternities and sororities at the school to provide support to any affected members of that community. "Our hearts go out to the student's family and community of friends who have been impacted by this incident," Dormitorio wrote in the statement. He reminded students that anyone who needs assistance should contact the school's Counseling Center by dialing 949-824-6457 or by going to
counseling.uci.edu
.
KTLA's Jennifer Thang and Erika Martin contributed to this story.