This is an archived article and the information in the article may be outdated. Please look at the time stamp on the story to see when it was last updated.
Police at UC Irvine on Wednesday said they are searching for a man they believe is tied to a string of purse and wallet thefts in the campus' main library.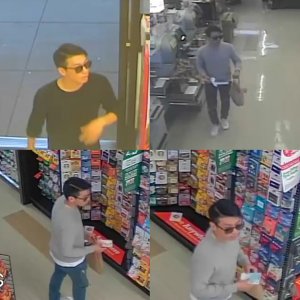 Authorities are looking for information that could lead them to a man in his 20s seen on security footage stealing unattended personal items in Langson Library, according to a statement from the UC Irvine Police Department. The person subsequently used stolen credit cards to make a number of purchases at nearby businesses, officers said.
The suspect is described as a clean-shaven Asian man in his 20s, with black hair parted on one side and a thin build. He has been seen wearing slightly tinted eyeglasses, police said.
"It's believed that he's been targeting the library, where there's a large group of students who often leave their materials behind at desks to go to bookshelves," UCI spokesperson Tom Vasich told KTLA.
Anyone with additional information about the crimes or suspect can call UCI Police at 949-824-5223.