This is an archived article and the information in the article may be outdated. Please look at the time stamp on the story to see when it was last updated.
UC Irvine, under fire for rescinding nearly 500 admission offers two months before the start of fall term, announced Wednesday that it will reinstate all 290 students whose offers were withdrawn for failing to meet deadlines and other requirements for transcripts and test scores.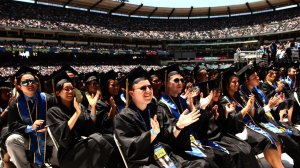 Appeals from students whose acceptances were withdrawn because of poor senior grades will be reviewed on a case-by-case basis, said Ria Carlson, associate chancellor of strategic communications and public affairs.
"It's clear that we don't like the way this was handled," Carlson said, adding that Chancellor Howard Gillman would issue a statement later Wednesday. "We should have been more sensitive in our approach. We probably should have worked more closely with students. We should have reached out to them by telephone."
As of Tuesday, 112 of the 214 appeals from students whose offers were withdrawn for transcript-related problems had been granted. The success rate was lower for those whose offers were rescinded because of poor senior grades; in that category, eight of 132 appeals from 209 students had been granted.
Read the full story on LATimes.com.
UC Irvine Chancellor: UCI to reverse admission withdrawals to majority of affected students: https://t.co/INGTBqAAZe

— UC Irvine (@UCIrvine) August 2, 2017