This is an archived article and the information in the article may be outdated. Please look at the time stamp on the story to see when it was last updated.
The University of California on Saturday advised university community members covered by President Trump's executive order banning travel to the United States from seven Muslim-majority countries to stay in this country for now.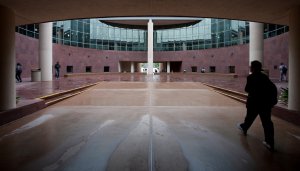 "We continue to analyze the executive order and its impact on our students, faculty, scholars, employees and other community members," the UC said in a  message to faculty, staff and students. "At this time, we recommend that UC community members from these seven countries who hold a visa to enter the United States or who are lawful permanent residents do not travel outside of the United States."
In a statement released Saturday, UC Irvine Chancellor Howard Gillman expressed "deep concern for our students, scholars and others who will be personally affected by this order. I am also concerned about the order's impact on the ability of universities to pursue our mission."
The abrupt ban ensnared people from all walks of life who were caught in transit or expecting to soon return to the U.S. — students on a break from studies, business travelers, tourists, even the bereaved who had gone home for a funeral.
Click here to read the full story on LATimes.com.