This is an archived article and the information in the article may be outdated. Please look at the time stamp on the story to see when it was last updated.
In an unprecedented move to ease controversy over its admission policies, the University of California on Monday proposed a 20 percent systemwide limit on nonresident undergraduate enrollment and vowed to continue giving Californians top priority.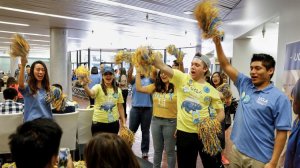 The proposed limit on students from other states and countries — which would be the first ever for the 10-campus public research university — comes after a scathing state audit last year found that UC was hurting California students by admitting too many out-of-state applicants. UC President Janet Napolitano has blasted those findings as unfair and unwarranted, but state lawmakers are requiring that UC adopt a policy restricting nonresident students in order to get an additional $18.5 million in funding this year.
UC spokeswoman Dianne Klein said the proposed policy balanced the needs of California students with the benefits that nonresident students bring — diverse perspectives as well as millions in additional tuition revenue, which added up to nearly $550 million in 2016-17. Those dollars have helped UC increase its enrollment of California students to historical highs this year, Klein said, even as state support per UC student has fallen to less than half of what it was two decades ago.
"The policy is very clear: Nonresident students will be in addition to and not in place of California residents," Klein said. "But it accepts the reality that we need this money to help fund California undergraduates.…We can't rely on the state to supply the undergraduate funding we need to maintain the academic quality for California students."
Click here to read the full story on LATimes.com.