This is an archived article and the information in the article may be outdated. Please look at the time stamp on the story to see when it was last updated.
Firefighters mounted an aggressive attack to extinguish a blaze that broke out in a seven-story building on the UCLA campus in Westwood early Tuesday, according to the Los Angeles Fire Department.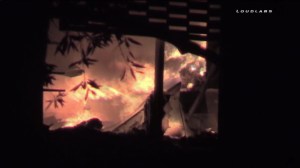 The fire was reported around 1:30 a.m. on the third floor of Building 48A — which is where the university's School of Dentistry is located — on Tiverton Avenue near Charles E. Young Drive.
Fire officials had initially estimated that 115 firefighters battled the blaze and extinguished it by 2:15 a.m.
However, LAFD Assistant Chief Andy Fox later stated at an early morning news conference that it took 60 firefights a total of 82 minutes to knock down the flames.
The fire was confined to a classroom and office area on the one floor, according to an LAFD news release.
"Firefighters essentially saved the entire third floor," Fox said. "They did a great job, got in there, made a very quick knock down of the incident."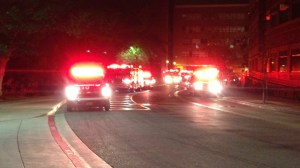 The third floor sustained moderate smoke and some water damage, according to Fox. He expected fire crews would remain on scene until at least 6:30 a.m. to continue cleanup efforts.
There was no one in the building at the time of the fire and no immediate reports of any injuries.
"No faculty, students or student housing were threatened," LAFD spokesman Brian Humphrey said in a news release. "The building was fully equipped with fire sprinklers, which helped to limit the flames."
The cause of the blaze was under investigation.
It was not initially clear how the building fire would impact classes on campus during the day.