This is an archived article and the information in the article may be outdated. Please look at the time stamp on the story to see when it was last updated.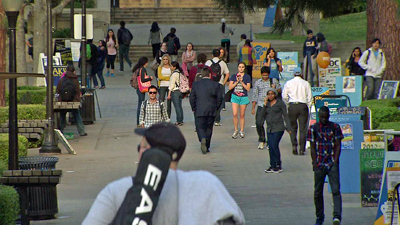 WESTWOOD, Calif. (KTLA) — One new study says UCLA is the most dangerous college in the U.S., but the university is disputing the findings.
The website BusinessInsider.com says it used FBI crime statistics from the years 2008 to 2011 to determine the rankings.
It looked only at public universities with a student population of more than 10,000.
The schools were ranked based on an average of per capita crime data, according to the website.
It says that UCLA has an average of 49 violent crimes and 921 property crimes per year, making it the most dangerous school in its survey.
However, UCLA officials are taking issue with the way the rankings were performed.
The statistics used by the website use crime reports taken by University of California police based at UCLA.
But UCLA police are responsible not only for the campus, but also for neighboring residential and business areas and UCLA hospitals and clinics all over L.A. County.
UCLA officials also point out that Westwood, where UCLA is located, is one of the safest parts of L.A. County, according to an L.A. Times data base.
"Safety is a priority at UCLA, and we are proud of our record," Phil Hampton, the director of UCLA Media Relations, said in a statement.
"To conclude that UCLA is somehow dangerous is a reckless mischaracterization of data," the statement added.
Several other California schools made the list, including UC Berkeley (# 3), San Diego State University (# 7), Cal State Fresno (#19) and UC Riverside (#24).
Despite several high profile crimes in the last year, USC is not on the list. It is a private university, so it wasn't part of the study.