This is an archived article and the information in the article may be outdated. Please look at the time stamp on the story to see when it was last updated.
Black people living in Los Angeles County have been more likely than the rest of the population to remain unemployed or to drop out of the workforce altogether in the wake of the 2007-09 recession, according to a new report conducted by UCLA.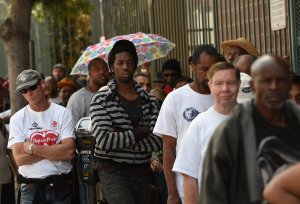 Black workers have lost blue-collar jobs at about the same rate as whites in the county, but seem to be less likely to find replacement work, according to the UCLA analysis.
Seventeen percent of black workers were unemployed on average from 2011 to 2014, compared with 9 percent of white workers, according to the report, published Tuesday in conjunction with the Los Angeles Black Worker Center.
A quarter of black workers who had a high school degree or less were unemployed, compared with 14 percent of white workers.