This is an archived article and the information in the article may be outdated. Please look at the time stamp on the story to see when it was last updated.
A UCLA student whose body was found inside a burning apartment in Westwood was stabbed to death, the Los Angeles County District Attorney's Office said in announcing murder charges against two men in the case on Tuesday.
Albert Hinojosa Medina and Eric Marquez, both 22, were charged with murder, according to a news release from the DA's office.
They pleaded not guilty at the Airport Branch of the Los Angeles County Superior Court on Tuesday afternoon. No news cameras were allowed inside the courtroom.
Medina allegedly burglarized an apartment near Andrea "Andy" Lauren DelVesco's and then broke into her unit where he fatally stabbed her and set the apartment on fire, according to the DA's office and the Los Angeles Times.
He was charged with one count of capital murder with the special circumstance of murder during a burglary, and a special allegation that he personally used a knife; one count of arson of a dwelling; and two counts of first-degree burglary.
The DA's office initially said the special circumstance was for murder during a robbery, but the allegation was updated to refer to burglary.
Medina fatally stabbed DelVesco, and his best friend, Marquez, was the getaway driver, according to the prosecutor, Deputy District Attorney Victor Avila.
The pair were caught by witnesses and a security camera entering Marquez's Westwood apartment together after the crime, Avila said. Medina was wearing DelVesco's Snuggie blanket to cover up the blood from the stabbing, the prosecutor said.
Authorities later recovered DelVesco's property at Medina's home, the Times reported.
Medina, from Fresno, is eligible for the death penalty. He used a knife, according to the criminal complaint.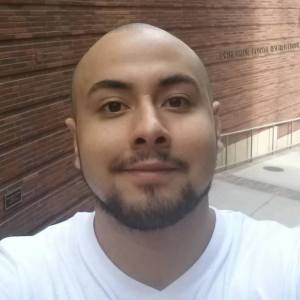 Marquez, a UCLA student, was charged with one count of murder and two counts of first-degree burglary. His alleged involvement in DelVesco's death was not made clear by the DA's office.
The two men were arrested over the weekend and booked on suspicion of murder, Los Angeles Police Department officials announced Monday.
Marquez was taken into custody on Sunday near his Westwood apartment.  Authorities arrested Medina the previous day at his home in Fresno.
LAPD Chief Charlie Beck said Tuesday that investigators believe the suspects acted alone and there is no continuing danger to the public.
"There's a considerable amount of forensic evidence," Beck said.
DelVesco, a 21-year-old senior from Austin, Texas, was found deceased by firefighters inside a burning unit in a Roebling Avenue apartment building near the UCLA campus on the morning of Sept. 21.
She had been charged July 8 with four felony counts of possession of controlled substance for sale, according to a Los Angeles County Superior Court criminal complaint against her.
DelVesco's body was discovered four days before she had been scheduled to appear in court for a preliminary hearing.
Police have not commented on whether the killing was tied to the criminal charges DelVesco faced. LAPD's Robbery-Homicide Division was continuing to investigate the killing.
Prosecutors planned to ask that Medina be held without bail, and that Marquez be held on $1.1 million bail.
Marquez is a fifth-year undergraduate student majoring in biology, UCLA said Monday.
More video:
Correction: An earlier headline featured in this story inaccurately described the nature of an alleged crime. The post has been updated.