This is an archived article and the information in the article may be outdated. Please look at the time stamp on the story to see when it was last updated.
The storied football rivalry between UCLA and USC is traditionally settled every year on the field. When it comes to the academic rivalry, however, boosters on both campuses can turn to U.S. News & World Report's annual rankings.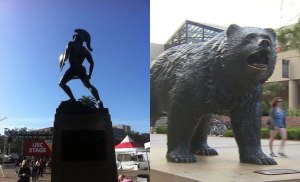 Unfortunately for Trojans and Bruins, the magazine's newest list offers little support for those who claim that either institution is academically dominant — the schools are tied in 23rd place in this year's rankings.
The two California universities are part of a four-way tie for 23rd place with Carnegie Mellon and the University of Virginia.
The publication ranked Princeton as No. 1 this year, followed by Harvard, Yale, Columbia and Stanford.
Although UCLA had historically edged out USC on previous lists, the latter has reversed that trend in the two years that preceded a tie last year.
Reaction to the tie on the two campuses Tuesday was in keeping with the two ongoing rivalry.
"There's something wrong with that. UCLA is way better than USC," said Bruin Sergio Rocha.
On USC's campus, student Anubha Bang offered a "good job" to the rival public university across town.
"A tie is just a way to make them feel good about themselves," Bang said.
The California Institute of Technology in Pasadena outranked both schools: The science and engineering-focused institution came in 10th.
The other Southern California schools in the top 100 were: University of California, San Diego, No. 39; UC Irvine, No. 49; and University of San Diego, No. 91.