This is an archived article and the information in the article may be outdated. Please look at the time stamp on the story to see when it was last updated.
Police on Thursday released sketches of two men described as the assailants in a severe beating and rape on the campus of the University of California, Santa Barbara.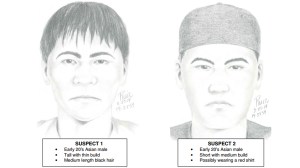 The composite sketches released by UC police showed two Asian males in their early 20s who were believed to have pushed a 19-year-old student to the ground, beating and then sexually assaulting her early Sunday.
A "wanted" flyer was being distributed in the area, and police planned to canvass the college campus and neighboring Isla Vista area.
One assailant was described as tall with a thin build and medium-length black hair, while the other was described as short with a medium build and possibly wearing a red shirt.
On Wednesday, authorities had said items belonging to the victim and the attackers were found at a "semi-secluded area" at the edge of campus. The case was at that point transferred from the Santa Barbara County Sheriff's Office to the UC Santa Barbara Police Department.
The victim was traumatized and unable to identify exactly where the attack occurred, a sheriff's spokeswoman had said on Monday.
Another woman was sexually assaulted early Saturday morning in Isla Vista, an unincorporated area next to campus that is known for drinking and raucous parties. The woman was taken from a party and sexually assaulted behind a car at about 1 a.m., the Sheriff's Office stated.
Police patrols have been increased on campus since the two attacks, and new lighting was set to be installed.
Anyone with information was asked to call police at 805-681-4171.