This is an archived article and the information in the article may be outdated. Please look at the time stamp on the story to see when it was last updated.
A 15-year-old boy was speaking out Thursday after being mistakenly shot by police in Hyde Park while standing next to a friend who was holding a replica gun.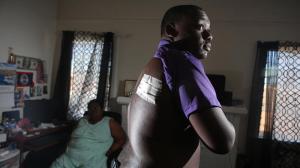 Jamar Nicholson and several friends were walking to school Tuesday morning when they were confronted by Los Angeles Police detectives.
According LAPD officials, the detectives believed they saw one of the teenagers pointing a gun at another boy in the group.
The detectives ordered the teen to drop the gun and when he failed to respond, they  fired multiple times at him, police officials said.
But the detectives missed their intended target and instead shot Nicholson in the back, narrowly missing his spine.
"All of a sudden we hear 'freeze,'" Nicholson told KTLA. "We didn't know who it was. So I turned around and all I see is gunshots. I felt a gunshot. I got hit. And (they) immediately told us 'get on the f—ing ground.'"
It was only after the shooting that the detectives realized the gun Nicholson's friend was holding was a replica.
On Thursday, police held a news conference to issue a warning about the dangers of replica guns.
"If you were a police officer … would you be able to distinguish which one of those two pistols is a real one and which one is a fake gun?" LAPD Cmdr. Andy Smith said, pointing at the replica and an actual handgun on a table.
The teenager holding the replica gun could face charges.
More Video: