This is an archived article and the information in the article may be outdated. Please look at the time stamp on the story to see when it was last updated.
A man suspected of killing his two teenage nephews in Arcadia was caught in Hong Kong on Saturday, according to the Los Angeles County Sheriff's Department.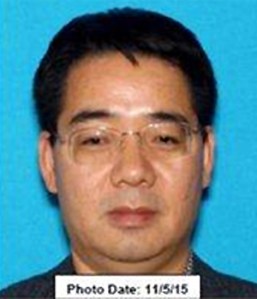 Deyun Shi, 44, boarded a Cathay Pacific plane after he allegedly beat his 15- and 16-year-old nephews to death at a home in the 400 block of Fairview Avenue, according to sheriff's officials, who said he was going to Beijing, China.
He was taken into custody by local authorities after his flight arrived in Hong Kong on Saturday, a news release from the department stated.
His capture was announced less than 24 hours after the bodies of the two boys were discovered in the Arcadia home by their mother, according to the Sheriff's Department.
The victims had sustained blunt force trauma, investigators said. They were identified late Saturday night by the L.A. County coroner's office as William Lin, 16, and Anthony Lin, 15.
Based on preliminary information, detectives believed the homicides were likely linked to a domestic dispute between the suspect and his estranged wife.
Shi learned at a court hearing on Thursday that his wife was seeking a divorce and had filed a restraining order against him, said sheriff's Lt. Eddie Hernandez.
Once the hearing ended, Shi allegedly went to her La Canada Flintridge home and physically assaulted the wife. She was transported to a hospital; her brother and sister-in-law left their Arcadia residence to be by her side, leaving their sons home alone.
Investigators suspect that during that time, Shi went to the Arcadia house, broke in, and killed Anthony and William, according to Hernandez.
The parents returned from the hospital and went straight to bed, and it wasn't until about 12:45 p.m. the following that the mother discovered her deceased sons.
Meanwhile, Shi — a Chinese national — headed to LAX and boarded a Beijing-bound flight on Friday, according to the Sheriff's Department.
The Sheriff's Department said it was working with the Department of Justice and the FBI to initiate extradition proceedings.
FBI spokeswoman Laura Eimiller released the following statement to KTLA regarding the bureau's involvement: "The FBI is providing assistance to LASD officials, who are investigating the homicide in Arcadia, by coordinating with the FBI's Legal Attaché and law enforcement authorities in Hong Kong, where the suspect has been taken into custody pending further review by officials in the United States and Hong Kong."
An investigation into the slayings, as well as the spousal assault, was ongoing, sheriff's officials said.
Anyone with information was urged to call the sheriff's Homicide Bureau at 323-890-5500. Anonymous tips can also be left by calling Crime Stoppers at 800-222-8477.
KTLA's Steve Bien contributed to this story.