This is an archived article and the information in the article may be outdated. Please look at the time stamp on the story to see when it was last updated.
Nearly two dozen people were arrested after Riverside police concluded a three-month-long undercover narcotics operation, authorities announced Tuesday.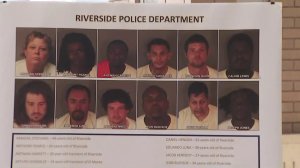 In early March, the department's Narcotics Unit began investigating street sale narcotics throughout the city, including in the Downtown Entertainment District. Since then, undercover officers have completed 29 drug transactions from 26 different suspects, according to the Riverside Police Department.
All but three of the suspected drug dealers have been found and booked into jail, officials said.
During a news conference Tuesday morning, Police Chief Sergio Diaz said that arrest warrants were issued for the 26 suspects last Wednesday. Many of the accused were on post-release supervision or parole. The investigation dealt with individuals who have "very extensive criminal histories including violent crime," Diaz said.
According to Detective Chris Williams, around 12 to 13 suspects were on parole for various crimes, including murder, assault with a deadly weapon, home invasion and carjacking. Two of the alleged drug dealers were under post-release community supervision, and five or six were on felony probation.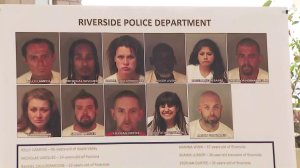 One of the suspects had just been released from custody two hours before being arrested on suspicion of resuming illegal drug activity, Williams said.
Hearing of this suspect's crime just hours after his or her release was "disheartening," according to Diaz.
He added, "But we can never let our dissatisfaction with aspects of the system dissuade us from doing our job."
The department said the investigation focused on places where, and times when, community members issued complaints and tips regarding illegal drug activity.
"We want the community to receive the message that we will always work diligently and constitutionally to ensure crime doesn't occur in our city," Diaz said.