This is an archived article and the information in the article may be outdated. Please look at the time stamp on the story to see when it was last updated.
A coalition of unions that represent workers at the Disneyland Resort is proposing a ballot measure that would force the theme park and other Anaheim employers that receive city subsidies to pay workers a living wage.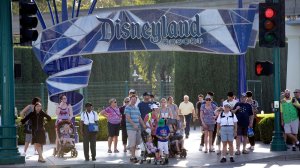 The measure, submitted Thursday to the Anaheim City Clerk, would require the resort and other large employers to pay a minimum of $15 an hour, starting Jan. 1, 2019, with hourly salaries rising $1 an hour every year through Jan. 1, 2022. Annual raises would then be tied to the cost of living.
The state's minimum wage for businesses with 26 or more employees is $10.50 an hour and is set to increase each year until it reaches $15 an hour in 2022.
The proposal was unveiled at a crowded town hall meeting in Anaheim on Wednesday night, when Disney workers discussed a survey that concluded that 73% of union workers questioned said they don't earn enough to pay for basic necessities, such as rent and food.
Read the full story on LATimes.com.