This is an archived article and the information in the article may be outdated. Please look at the time stamp on the story to see when it was last updated.

Universal Studios Hollywood plans to turn the "Walking Dead" haunted maze, which has proved wildly popular during the theme park's last four Halloween Horror Nights, into a year-round attraction.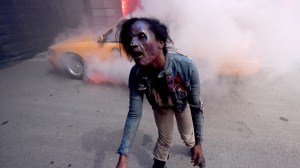 Set to debut this summer, the "Walking Dead" walk-through attraction will be housed in a permanent building on the upper lot near the main entrance that will be open to visitors 365 days a year.
Universal said the new "no-holds-barred experience" promises to be significantly more intense than recent Horror Nights iterations of the maze, with more detailed set designs, props, costumes, makeup and animatronic figures.
The Emmy Award-winning AMC zombie apocalypse television show on which the attraction is based remains a ratings juggernaut. The new permanent maze will reunite "Walking Dead" executive producer Greg Nicotero with Horror Nights creative director John Murdy.
Click here to read the full story on LATimes.com.