This is an archived article and the information in the article may be outdated. Please look at the time stamp on the story to see when it was last updated.
Public health officials continue to believe there will be no long-term health effects from a massive, monthslong natural gas leak near Porter Ranch, but they are expanding their air monitoring efforts and may reevaluate that assessment.
The announcement came at a Los Angeles County news conference Wednesday morning on the ongoing leak at Southern California Gas Co.'s troubled Aliso Canyon facility, first discovered on Oct. 23. Thousands of residents have been relocated, and school campuses have closed.
"We recognize that the residents of Porter Ranch have been greatly affected by the situation. We hope there will be a solution soon and that they can get back to their normal lives," county Interim Health Officer Dr. Jeffrey Gunzenhauser said.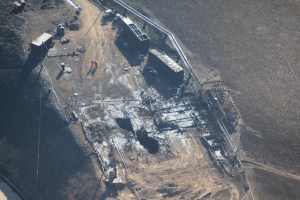 Meanwhile Wednesday, Porter Ranch residents took their complaints to a meeting of regional air quality regulators in Diamond Bar.
They rallied outside a South Coast Air Quality Management District hearind board meeting on a possible order for abatement over the gas leak. Officials said they would make a decision on an agreement between AQMD and the Gas Co. at a meeting Saturday.
"We're going to urge them to use their full authority to shut the facility down. The order for abatement allows them that option," protester Alexandra Nagy said.
County officials said the South Coast Air Quality Management District was expanding its air testing to monitor more chemicals for greater lengths of time.
Gas company crews have been working to drill a "relief well" which would allow them to plug the leak and shut down the well.
On Monday, the utility announced its relief well project was proceeding ahead of schedule and was expected to be completed by late February, if not sooner.
As officials struggle to get control of the gas leak, many residents have fled the Porter Ranch area, affecting local schools and businesses.
"You can't expect thousands of families to move out of the area without it having an impact on the local economy," Rana Ghadban, executive director of the 400-member Chatsworth/Porter Ranch Chamber of Commerce told the Los Angeles Times.
County officials said Wednesday that they were seeking a declaration from the U.S. Small Business Administration that would allow affected businesses to seek "bridge loans."
In January, students were relocated from two Porter Ranch Schools, which were closed due to the gas leak.
Gov. Jerry Brown declared the natural gas leak an emergency on Jan. 6, and said costs related to the leak and response must be paid by the Gas Co.
At Wednesday's news conference in downtown Los Angeles, county officials said they were closely monitoring the gas leak.
Though some residents are experiencing short-term effects from exposure to the sulphur-containing compounds added to odorless natural gas, public health officials say evidence so far indicates there will not be long-term effects.
A federal study of a release of similar compounds several years ago in Alabama showed residents had similar symptoms -- nausea, dizziness, irritation -- but no long-term effects, Gunzenhauser said.
However, public health officials said, data from air monitoring has been very limited and is now being expanded. That information should be available in the next week or two.
Among the chemicals of most serious concern, cancer-causing benzene levels in the Porter Ranch community have been consistent with amounts seen throughout the Los Angeles Basin, public health officials said. Of more than 1,000 measurements, only 15 were above the level of concern.
"We don't know if tomorrow's benzene level is going to be that much different from today," said Dr. Cyrus Rangan, medical toxicologist with the county Department of Public Health. "So that's why we want to do this time-integrated, 12-hour, continuous monitoring of benzene -- to make sure we have a handle on it on an everyday basis."
The county Fire Department, meanwhile, had prepared a plan in case there is an explosion associated with the Gas Co.'s efforts to address the leak.
To receive updates, log on to www.alisoupdates.com.