This is an archived article and the information in the article may be outdated. Please look at the time stamp on the story to see when it was last updated.
In the tony hillside neighborhoods of Bel-Air and Brentwood, residents say they are aware of the homeless that live in the shadows of their multimillion-dollar homes.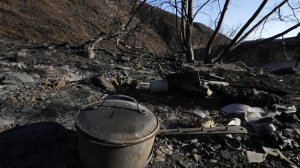 The affluent area along the 405 Freeway in the Sepulveda Pass, home to celebrities, corporate titans and others, has not been immune to the homeless crisis that has spread across the city. Some residents express sympathy and concern for the homeless, others are wary and want them out.
But the Skirball fire, which destroyed homes and forced the evacuation of a large chunk of Bel-Air, has put the homeless issue at the forefront of community debate. Fire officials say the fire was caused by a cooking fire at a homeless camp along the 405. Investigators say the fire was accidentally set but have not been able to find those who occupied the camp.
Resident Alma Soll, whose balcony was covered with soot by the fire, said the homeless population is a part of life in the area but that the fire was disconcerting.
Read the full story on LATimes.com.