This is an archived article and the information in the article may be outdated. Please look at the time stamp on the story to see when it was last updated.
A University of Southern California professor was killed on campus Friday evening after being stabbed by a student, authorities said.
Bosco Tjan, a professor of psychology, was identified as the victim, according to a memo from USC's president.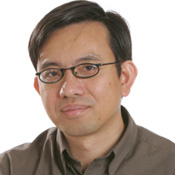 Los Angeles officers received a call of a stabbing with a deadly weapon around 4:34 p.m. in the Seeley G. Mudd building in the 3600 block of McClintock Avenue.
USC Public Safety officers apprehended the student shortly after the attack, USC officials said.
Tjan was pronounced dead at the scene, according to Los Angeles Fire Department officials. The student is in LAPD custody.
"As we get further into this investigation, conduct more of those interviews we'll have more of an idea of exactly what the motive is," said Meghan Aguilar, a detective with the LAPD. "Although, we do believe this is not a random act and there is no concern for the safety of anyone on campus at this time."
Tjan joined the USC faculty in 2001 and served as co-director of the Dornsife Cognitive Neuroimaging Center, according to the memo.
Students were sent a text message about the police activity on campus that read "Police-related incident in progress at Seeley G Mudd," referring to a building on campus.
"No danger to USC or the community," the text continued. "Stay away from area."
Check back for updates on this developing story. 
#BREAKING: Police have locked down the Seeley G. Mudd building and are warning students to stay away from the area. pic.twitter.com/cNYvQsNAQW

— Daily Trojan (@dailytrojan) December 3, 2016