This is an archived article and the information in the article may be outdated. Please look at the time stamp on the story to see when it was last updated.
Protesters planned to stage a "die-in" at an Iggy Azalea concert at USC on Thursday night in protest of the recent deaths of African-Americans at the hands of police officers.
Nearly 200 people had signed up to arrive at the hip-hop artist's 8 p.m. event on campus at Bovard Auditorium, according to a Facebook invitation.
The hacktivist group Anonymous also tweeted Thursday afternoon that it planned on "shutting down" the Azalea performance, but the concert seemed to have gone ahead without a hitch.
Video from the scene showed only about a couple dozen activists showed up for the protest, which one organizer said was not related to the Anonymous threat. The demonstrators were far outnumbered by USC students waiting to see the show.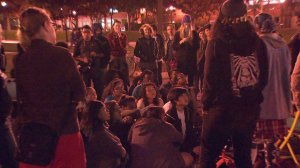 Protesters were urged to create signs reading "black lives matter" and wear black clothing and surgical masks with "I can't breathe" written on them.
"I can't breathe" were the last words uttered by Eric Garner, a 43-year-old black man who was killed in July on Staten Island after being placed in a choke hold by a New York City police officer. A grand jury on Wednesday chose not to charge the officer with a crime.
The jury's decision came barely a week after another grand jury similarly did not charge former police Officer Darren Wilson in the fatal shooting of unarmed black 18-year-old Michael Brown in Ferguson, Missouri.
The U.S. Department of Justice is probing possible civil rights violations in both cases.
The two grand jury decisions have provoked waves of protests, many of them including "die-ins" that involve participants lying down in the street to simulate the sometimes deadly effects of police violence.
Thursday's planned "die-in" at USC was expected to draw hundreds of protesters to Azalea's concert, which was set for students only. The concert was set to be streamed online for free by Yahoo!
A 24-year-old white Australian whose music rose to quick prominence and made Billboard chart history earlier this year, Azalea has drawn allegations that she appropriates black culture and music.
KTLA's Kennedy Ryan contributed to this article.
Clarification: This story has been updated to include language better distinguishing the Anonymous shut-down threat from the protest organized via Facebook invitation.
https://twitter.com/IGGYAZALEA/status/540274962805055488