This is an archived article and the information in the article may be outdated. Please look at the time stamp on the story to see when it was last updated.
A young man who says he was struck when a car barreled down on counterprotesters in Charlottesville, Virginia, is a USC student, the university in Los Angeles confirmed Monday.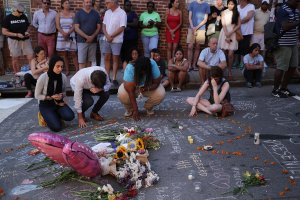 Aubtin Heydari wrote in a public post on his Facebook page Saturday evening that he had been among those hit when a Dodge Challenger plowed into two other vehicles, striking pedestrians a few blocks from a white nationalist rally called "Unite the Right."
"All my life I have been called a terrorist because of my ethnicity. Today I was hit by one in a car. He was a white man," Heydari wrote.
Having been shown the Facebook post, a University of Southern California spokeswoman confirmed that Heydari is currently a student. USC is on summer break and resumes classes Aug. 21.
Heydari's profile indicates he lives in Harrisonburg, Virginia, about an hour from Charlottesville.
An Instagram account in Heydari's name includes multiple photos apparently showing him at protests. In one, he appears to stand in front of USC's Tommy Trojan statue and holds a sign stating "Good night white power #resistance."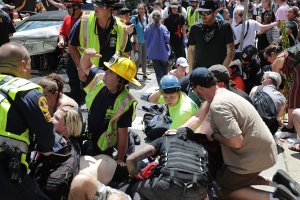 Nineteen people were injured Saturday, Aug. 12, when a car allegedly driven by 20-year-old James Alex Fields of Ohio crashed into two other vehicles that in turn struck pedestrians. Charlottesville local Heather Heyer, 32, was killed; those injured have been not been identified by authorities.
People on the street were near Emancipation Park, where white supremacists, members of the KKK and others from so-called alt-right groups were protesting the planned removal of a statue of Confederate Gen. Robert E. Lee.
Two Virginia State Police pilots working the rally were also killed when their helicopter went down in a wooded area.
The Justice Department said it had launched a civil rights investigation in the car crash, and Attorney General Jeff Sessions said Monday the incident meant the definition of "domestic terrorism."
https://twitter.com/storytellKG/status/786330541154979841