This is an archived article and the information in the article may be outdated. Please look at the time stamp on the story to see when it was last updated.
Jon Walters, a freshman who helped the University of Southern California men's water polo team win a national championship in December, has died, the university said in a blog post on its athletic website Wednesday. He was 19.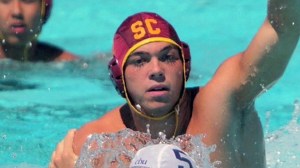 Walters passed away after suffering a heart attack at the Western Medical Center in Santa Ana on Wednesday afternoon, Walters' father, Bill, confirmed to the Orange County Register. He had been battling pneumonia and kidney failure, and fell into a coma on Jan. 1.
Bill Walters told the Register that his son had been showing signs of improvement last Friday before he passed away this week.
An autopsy will be conducted on Jon Walters after his doctor chose not to sign a death certificate, Lt. Jeff Hallock of the Orange County Sheriff's Department said Thursday night. No date had been set for the autopsy, Hallock said.
USC Head Coach Jovan Vavic called Walters' death a "terrible loss."
"Jon was a great Trojan, and an outstanding young man from a wonderful family," Vavic said, according to the USC blog post. "He and his family were loved by all of us on the USC water polo team. I am deeply saddened, and I speak for our team in saying that this is a terrible loss of a friend and teammate. Our prayers go out to Jon's family in hopes that they find comfort."
He was also mourned on Twitter.
The #TrojanFamily was rocked today by the death of @USCWaterPolo freshman Jon Walters. #FightOnForever http://t.co/cXxbG7Vyfj

— USC Trojans (@USC_Athletics) January 9, 2014
We are heartbroken & saddened w/news. Our Trojan family has lost a special member today. We will remember & love you forever Jon Walters✌

— USC Water Polo (@USCWaterPolo) January 9, 2014
Walters, who played for Mater Dei High School in Santa Ana and was the 2012 CIF Player of the Year, was a key contributor to the team, the university said. He scored 17 goals during the 2013 season.