This is an archived article and the information in the article may be outdated. Please look at the time stamp on the story to see when it was last updated.
A teacher at Santa Monica High School was placed on leave Friday after what a district official called an "utterly alarming" confrontation involving the teacher and a student.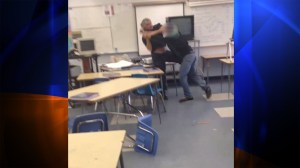 The incident took place in a classroom at the high school and was recorded on cell phone video by a number of students, according to a letter sent home to parents from the superintendent of Santa Monica-Malibu Unified School District.
At least one video captured science teacher and wrestling coach Mark Black and an unidentified student at the front of the classroom already involved in some type of physical confrontation.
Other students can be seen scrambling to get out of the way as the struggle between the two individuals moves toward the back of the classroom.
Black was finally able to pin the boy down on the floor.
"I can tell you that what I witnessed on one of those videos is utterly alarming," Superintendent Sandra Lyon wrote in the letter.
Lyon said there was no serious physical harm to anyone involved, but added, "that neither dismisses the severity of this situation nor my commitment to gather all the facts and make sure the proper actions are taken."
It was not known what triggered the confrontation. But some students told KTLA the student may have been caught selling drugs in class.
"As a parent I understand the frustration of the teacher… but I don't believe he handled it the right way," said parent Skipp Townsend.
The teacher was place on leave, pending the outcome of an independent investigation, Lyon wrote.
"Until  the investigation is complete, we will not have all the details that led up to this incident; nevertheless, based on the what I have viewed, the kind of physical restraint used by the teacher is unacceptable," the letter stated.